Himachal CM releases books by Ravinder Thakur
Himachal CM releases books by Ravinder Thakur
on
Nov 25, 2021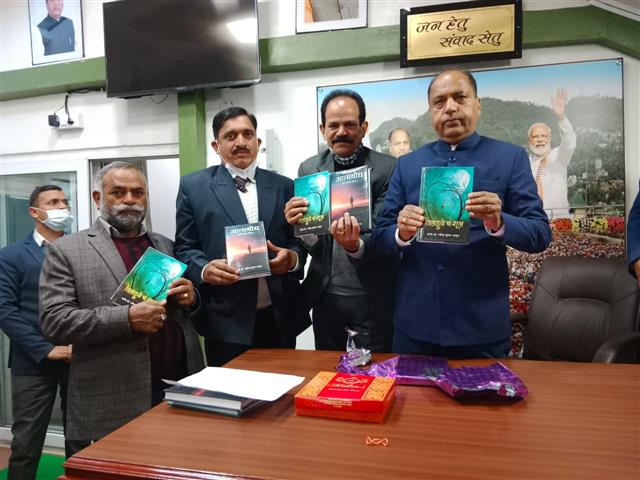 Chief Minister Jai Ram Thakur released two books - a Pahari poetry collection "Dilduye Ch Shool" and Hindi poetry collection "Aatm Bodh" - authored by Ravinder Kumar Thakur. Appreciating the efforts of the author, the Chief Minister said the Pahari poetry collection would prove beneficial in promoting the dialect in the state. Ravinder Thakur has retired as Deputy Superintendent of Police and is presently a member of the Academy of Languages, Arts and Culture, Shimla. This is his third book.
10-day NCC camp concludes
A 10-day annual training camp conducted by 7 HP (l) Coy NCC Shimla for senior cadets concluded on Wednesday at Government Senior Secondary School, Shoghi, Shimla. Addressing the cadets on the closing day, Commanding Officer Col Suneet Shankta complimented the participants on the successful completion of the camp. During the camp, the cadets were given training on drill, map reading, battle craft, field craft and various weapon. The cadets were also given an opportunity to showcase their firing skills. Col Shankta gave out prizes to the cadets who performed well during the camp. A total of 190 NCC cadets, including 97 girl cadets of the NCC Army Wing from various colleges, attended the camp.
Talk on women empowerment
The women cell of St Bede's College, Shimla, organised a discussion on topics related to women empowerment in contemporary society, women's rights and Indian feminism. Daisy Thakur, chairperson of HP State Commission for Women; Navlesh Verma, advocate at Shimla High Court; and Priyanka Vaidya, Associate Professor at HPU, were the speakers for the day. Vandana Thakur, Assistant Professor at St Bede's, delivered the keynote speech.
Source - https://www.tribuneindia.com/