Dar Al Jadeed Publishing House announced as 2021 IPA Prix Voltaire laureate
on
Nov 23, 2021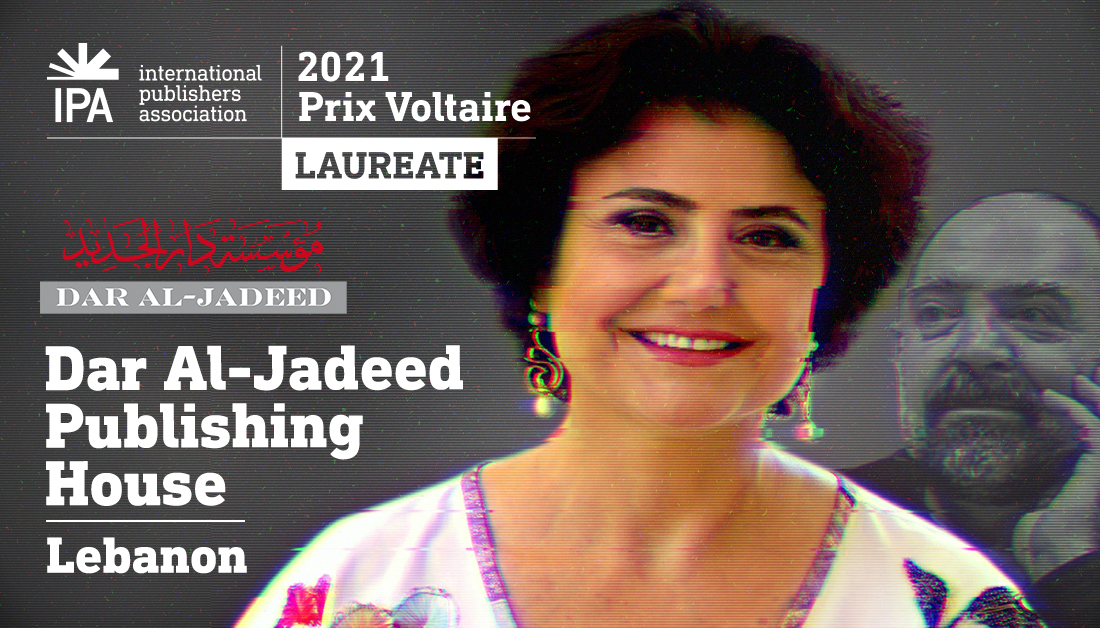 The International Publishers Association's Freedom to Publish Committee has selected Lebanese publishing house Dar Al Jadeed to receive the 2021 IPA Prix Voltaire. The Beirut-based company was chosen from a shortlist of five nominees, who have all been recognized for their exemplary courage in upholding the freedom to publish and enabling others to exercise their right to freedom of expression.
 
Dar Al Jadeed Publishing House was cofounded in Beirut, Lebanon, in 2000 by Lokman Slim and his sister, Rasha al Ameer, to publish cultural works free from ideological conflict or partisanship. In February 2021, Lokman Slim was murdered after a campaign of threats and intimidation over his efforts to bring greater freedom of expression and open dialogue to Lebanon.
 
Bodour Al Qasimi, President of IPA said: Through the Prix Voltaire, the International Publishers Association stands with individuals and organizations which share our commitment and devotion to freedom to publish as a fundamental right. Publishers, and our colleagues throughout the publishing value chain, need to know that they have the collective support of the entire industry behind them when they face unjust persecution and censorship. This year's Prix Voltaire laureate paid the ultimate price standing up for freedom of expression as an enabler of tolerance and conflict resolution in Lebanon. His loss is a loss to the entire international publishing community.
 
Kristenn Einarsson, Chair of the IPA's Freedom to Publish Committee added: Dar Al Jadeed has experienced first-hand the dangers that can come with a commitment to freedom of expression and the free communication of ideas. Their bravery is an inspiration.
 
Dar Al Jadeed cofounder Rasha Al Ameer will receive the Prix Voltaire in person at Guadalajara International Book Fair, on 30 November. The ceremony will also feature a keynote from Mexican journalist and Univision anchor, Jorge Ramos.
 
Earlier the same day the IPA will hold a Freedom to Publish seminar to assess the situation in Latin America and the wider world. Raul Figueroa Sarti, who was shortlisted for the Prix Voltaire and was awarded the Association of American Publishers International Freedom to Publish Prize | Jeri Laber Award on 17 November, will appear alongside Nicaraguan author, and Prix Cervantes laureate, Sergio Remirez, and Jerónimo Pimentel, head of Penguin Random House Peru.
 
The IPA has also announced a Special Award for Chinese author Li Liqun (pen name Li Huizi), an Independent Chinese PEN Center member who took his own life on 23 July 2021.
 
On the Special Award, Kristenn Einarsson said: The Freedom to Publish Committee only gives a Prix Voltaire Special Award for cases we feel are particularly noteworthy. Li Liqun's efforts as a writer, political commentator and public intellectual were widely respected. The Committee is proud to recognize his work for freedom of expression.
About the 2021 Prix Voltaire
This year's shortlist also included independent Belarusian publishers, Mikado Publishing (Turkey), Samir Mansour Bookshop for publishing (Palestine) and Raul Figueroa Sarti (Guatemala).
 
Prix Voltaire nominees are publishers – individuals, groups or organizations – who stand firm on freedom to publish, be it as longstanding defenders of these values or having recently published works despite pressure, threats, intimidation or harassment from various sources.
 
About the Prix Voltaire Ceremony and the Guadalajara International Book Fair Programme
 
2021 International Publishers Association Prix Voltaire Ceremony, 20:00, Tuesday 30 November
Auditorio Juan Rulfo, planta baja, Expo Guadalajara
 
The 2021 International Publishers Association Prix Voltaire Ceremony will celebrate courageous publishers from around the world who have risked their lives and freedom to fight for the freedom to publish. The ceremony will conclude with the presentation of the IPA Prix Voltaire to this year's laureate.
Speakers:
Jorge Ramos, journalist and news anchor, Univision
Karine Pansa, Vice President, IPA
Kristenn Einarsson, Chair, IPA Freedom to Publish Committee
Rasha Al Ameer, co-founder, Dar al Jadeed publishing house, Lebanon
 
 
Freedom to Publish Seminar, 12:00 – 13:30, Tuesday 30 November
 
The different shades of censorship: from government pressure to libel threats and self-censorship
Seminar Hall 4, planta baja, Expo Guadalajara
 
International and regional experts will look at the evolving challenges to freedom of expression and the freedom to publish. They will discuss how different types of pressure, whether directly from governments, through expensive defamation and libel cases or through social media can silence authors and lead anyone in the book sector to self-censor.
 
Moderator: Mayra González, literary director (Alfaguara, Lumen, Reservoir Books, Salamandra and Taurus imprints), Penguin Random House México
 
Speakers:
Jerónimo Pimentel, Director General, Penguin Random House Peru
Sergio Ramirez, author, Nicaragua
Raul Figueroa Sarti, F&G Editores, Guatemala
Rasha Al Ameer, co-founder, Dar al Jadeed publishing house, Lebanon
Kristenn Einarsson, Chair, Freedom to Publish Committee
 
 
The 2021 IPA Prix Voltaire shortlisted nominees
 
Independent Belarusian Publishers (Belarus)
 
A number of different independent Belarusian publishers/publishing houses have been nominated with requests for anonymity for the individual publishers, due to the potential risks they face. These include harassment in the form of police visits, seizure of computers, books, blocking of books from export, investigations by tax and finance authorities, imposition of high fines for alleged financial irregularities and blocking of bank accounts. These tend to take place particularly after publication of books critical of the government.
 
Mikado Publishing (Turkey)
 
Mikado Publishing in Turkey, founded in 2006. They have been prosecuted on charges of obscenity for the publication of a book called Where do babies come from? The publisher faces up to 12 years in prison with the case pending at the court of appeal. Mikado received the Turkish Publishers' Association Freedom of Thought and Expression Award in 2020.
 
Samir Mansour Bookshop for Publishing (Palestine)
 
Samir Mansour Bookshop for Publishing had been a presence in Gaza for over 20 years before being destroyed in an Israeli missile attack on Gaza, in May 2021. The bookshop-cum-publishing house was a critical part of the local community and contained tens of thousands of books in various languages covering many subjects. It had been characterized as 'a way to lift the siege on Gaza through literature' by Mosaab Abu Toha, a poet and the founder of the Edward Said library.
 
Raul Figueroa Sarti (Guatemala)
 
Raul Figueroa Sarti's political engagement saw him forced into exile in Costa Rica, although in 1993 he returned to Guatemala and founded F&G Editores, which has published more than 180 titles. Figueroa Sarti has promoted the organization of independent publishers in Central America, which led to the founding of the Independent Central American Group (GEICA), which became the focus for the dissemination of Central American literature internationally. In 2009, Figueroa Sarti faced a malicious judicial process designed to paralyze his editorial work, which resulted in a one-year prison sentence that was later suspended.
 
About the IPA Prix Voltaire
 
The IPA Prix Voltaire is unique in honouring the freedom to publish, without which many forms of freedom of expression would be impossible. Publishers who provide authors with a platform to disseminate their written ideas assume the same risks as the writers themselves.
 
Nominees have typically published controversial works amid pressure, threats, intimidation or harassment, be it from governments, other authorities or private interests. Alternatively, they may be publishers with a distinguished record of upholding the values of freedom to publish and freedom of expression. For the purposes of the IPA Prix Voltaire, the definition of 'publisher' is an individual, collective or organization that provides others with the means to share their ideas in written form, including via digital platforms.
 
The IPA Prix Voltaire, which comes with a CHF 10,000 prize, is made possible by generous contributions from sponsors, all of which are publishing houses and organizations that share the values that the IPA Prix Voltaire recognizes.
 
The current sponsors of the IPA Prix Voltaire are, in alphabetical order:
Albert Bonniers Förlag(Sweden)
Aschehoug(Norway)
Cappelen Damm (Norway)
Det norske Samlaget (Norway)
Gyldendal (Norway)
Natur & Kultur (Sweden)
Norstedts (Sweden)
La casa editorial Dar Al Jadeed anunciada como ganadora del Premio Voltaire 2021
El laureado dará un discurso en la ceremonia que tendrá lugar durante la Feria Internacional del Libro de Guadalajara el 30 de noviembre.
El periodista mexicano Jorge Ramos también intervendrá con el discurso de apertura en la ceremonia del Prix Voltaire
El Seminario de Libertad de Publicación contará con la presencia de Raúl Figueroa Sarti, editor guatemalteco preseleccionado para el Prix Voltaire, y también la presencia del autor ganador del Premio Cervantes, Sergio Ramírez.
La UIE también anuncia que el Premio Especial Prix Voltaire será entregado al escritor chino Li Liqun, quien se quitó la vida en julio de 2021.

El Comité de Libertad de Publicación de la Unión Internacional de Editores ha seleccionado a la casa editorial libanesa Dar Al Jadeed para recibir el Prix Voltaire 2021. La empresa con sede en Beirut fue elegida de una lista de cinco candidatos preseleccionados, todos reconocidos por su valentía ejemplar al defender la libertad de publicar y así permitir que otros ejerzan su derecho a la libertad de expresión.
La Editorial Dar Al Jadeed fue cofundada en Beirut, Líbano, en el año 2000 por Lokman Slim y su hermana, Rasha al Ameer, para publicar obras culturales libres de conflictos ideológicos o partidistas. En febrero de 2021, Lokman Slim fue asesinado tras una campaña de amenazas e intimidaciones por sus esfuerzos por llevar una mayor libertad de expresión y un diálogo abierto al Líbano.

Bodour Al Qasimi, presidenta de la UIE, dijo: "A través del Prix Voltaire, la Unión Internacional de Editores se une a las personas y organizaciones que comparten nuestro compromiso y devoción por la libertad de publicar como un derecho fundamental. Los editores, y nuestros colegas en toda la cadena de valor editorial, necesitan saber que cuentan con el apoyo colectivo de toda la industria cuando se enfrentan a la persecución y la censura injusta. El galardonado del Prix Voltaire de este año pagó el precio más alto defendiendo la libertad de expresión en su rol como facilitador de la tolerancia y la resolución de conflictos en el Líbano. Su pérdida es una pérdida para toda la comunidad editorial internacional."

Kristenn Einarsson, presidente del Comité de Libertad de Publicación de la UIE, agregó: "Dar Al Jadeed ha experimentado de primera mano los peligros que pueden surgir con un compromiso tal con la libertad de expresión y la libre comunicación de ideas. Su valentía es una inspiración."

La cofundadora de Dar Al Jadeed, Rasha Al Ameer, recibirá el Prix Voltaire en persona en la Feria Internacional del Libro de Guadalajara, el 30 de noviembre. La ceremonia también contará con la intervención del periodista mexicano y presentador de Univision, Jorge Ramos.

Más temprano, ese mismo día, la UIE llevará a cabo un seminario sobre la libertad de publicación para evaluar la situación en América Latina y en el resto del mundo. Raúl Figueroa Sarti, quien fue preseleccionado para el Prix Voltaire y galardonado el 17 de noviembre con el Premio Internacional Libertad para Publicar Jeri Laber de parte de la Asociación de Editores Estadounidenses (AAP), se presentará junto al autor nicaragüense y ganador del Premio Cervantes, Sergio Remirez, y Jerónimo Pimentel, director de Penguin Random House Perú.

La UIE también ha anunciado un Premio Especial para el autor chino Li Liqun (seudónimo Li Huizi), miembro del Centro PEN Independiente de China, quien se quitó la vida el 23 de julio de 2021.

En cuanto al Premio Especial, Kristenn Einarsson dijo: "El Comité de Libertad de Publicación solo otorga un Premio Especial Prix Voltaire para los casos que consideramos que son particularmente dignos de mención. Los esfuerzos de Li Liqun como escritor, comentarista político e intelectual público fueron ampliamente respetados. El Comité se enorgullece de reconocer su labor en favor de la libertad de expresión."

Acerca del Prix Voltaire 2021
En la lista de finalistas de este año también figuraban los editores independientes bielorrusos, Mikado Publishing (Turquía), Samir Mansour Bookshop for Publishing (Palestina) y Raul Figueroa Sarti (Guatemala).

Los nominados al Prix Voltaire son editores (individuos, grupos u organizaciones) que se mantienen firmes en la libertad de publicar, ya sea como defensores de estos valores desde hace mucho tiempo o por haber publicado trabajos recientemente a pesar de la presión, las amenazas, la intimidación o el acoso de diversas fuentes.
 
Sobre la Ceremonia del Prix Voltaire y el Programa de la Feria Internacional del Libro de Guadalajara
Ceremonia del Prix Voltaire de la Unión Internacional de Editores 2021, 8PM, martes 30 de noviembre
Auditorio Juan Rulfo, planta baja, Expo Guadalajara
 
La ceremonia del Prix Voltaire 2021 de la Unión Internacional de Editores rendirá homenaje a los editores valientes de todo el mundo que han arriesgado sus vidas y su libertad para luchar por la libertad de publicar. La ceremonia concluirá con la entrega del Prix Voltaire de la UIE al laureado de este año.
 
Participantes:
Jorge Ramos, periodista y presentador de noticias, Univisión
Karine Pansa, vicepresidenta de la UIE
Kristenn Einarsson, presidente del Comité de Libertad de Publicación de la UIE
Rasha Al Ameer, cofundadora de la casa editorial Dar al Jadeed, Líbano
 
Seminario sobre la libertad de publicar, 12:00PM - 1:30PM, martes 30 de noviembre
Los diferentes matices de la censura: desde la presión gubernamental hasta las amenazas de difamación y la autocensura
Sala de Seminarios 4, planta baja, Expo Guadalajara
 
Expertos internacionales y regionales analizarán la evolución de los desafíos a la libertad de expresión y la libertad de publicar. Discutirán cómo los diferentes tipos de presión, ya sea directamente de los gobiernos, a través de costosos casos de difamación y calumnia o a través de las redes sociales, pueden silenciar a los autores y llevar a cualquiera en el sector del libro a autocensurarse.
Moderadora: Mayra González, directora literaria (Alfaguara, Lumen, Reservoir Books, sellos Salamandra y Taurus), Penguin Random House México
Participantes:
Jerónimo Pimentel, Director General, Penguin Random House Perú
Sergio Ramírez, autor, Nicaragua
Raúl Figueroa Sarti, F&G Editores, Guatemala
Rasha Al Ameer, cofundador de la editorial Dar al Jadeed, Líbano
Kristenn Einarsson, presidente del Comité de Libertad de Publicación
 
Los nominados preseleccionados al Prix Voltaire 2021 de la UIE
Editores independientes bielorrusos (Bielorrusia)
Varias editoriales / casas editoriales independientes bielorrusas han sido nominadas con peticiones de anonimato para los editores individuales, debido a los riesgos potenciales a los que se enfrentan. Estos incluyen acoso en forma de visitas policiales, incautación de computadoras y libros, bloqueo de libros para la exportación, investigaciones por parte de las autoridades fiscales y financieras, imposición de altas multas por presuntas irregularidades financieras y bloqueo de cuentas bancarias. Todo ello suele ocurrir particularmente tras la publicación de libros críticos del gobierno.

Editorial Mikado (Turquía)
La Editorial Mikado de Turquía, fundada en 2006, ha sido procesada ​​por cargos de obscenidad por la publicación de un libro titulado ¿De dónde vienen los bebés? La editorial se enfrenta a una pena de hasta 12 años de prisión, con el caso pendiente en el tribunal de apelación. Mikado recibió el Premio a la Libertad de Pensamiento y Expresión de la Asociación de Editores de Turquía en 2020.

Librería-editorial Samir Mansour (Palestina)
La librería-editorial Samir Mansour había estado presente en Gaza durante más de 20 años antes de ser destruida en un ataque con misiles israelís contra Gaza, en mayo de 2021. La librería-editorial era una parte fundamental de la comunidad local y contaba con decenas de miles de libros en varios idiomas que cubrían temas diversos. Mosaab Abu Toha, poeta y fundador de la biblioteca Edward Said, caracterizó la librería como "una forma de levantar el asedio a Gaza a través de la literatura".
 
Raúl Figueroa Sarti (Guatemala)
El compromiso político de Raúl Figueroa Sarti le obligó a exiliarse en Costa Rica, aunque en 1993 regresó a Guatemala y fundó F&G Editores, una casa editorial que ha publicado más de 180 títulos. Figueroa Sarti ha impulsado la organización de editoriales independientes en Centroamérica, lo que llevó a la fundación del Grupo Centroamericano Independiente (GEICA), que se convirtió en el foco de la difusión de la literatura centroamericana a nivel internacional. En 2009, Figueroa Sarti se enfrentó a un proceso judicial malicioso destinado a paralizar su trabajo editorial, que resultó en una condena de un año de prisión que posteriormente fue suspendida.

Acerca del Prix Voltaire de la UIE
El Prix Voltaire de la UIE es único en honrar la libertad de publicar, sin la cual muchas formas de libertad de expresión serían imposibles. Los editores que proporcionan a los autores una plataforma para difundir sus ideas escritas asumen los mismos riesgos que los propios escritores.

Los nominados suelen publicar obras controvertidas en medio de presiones, amenazas, intimidación o acoso, ya sea por parte de gobiernos, otras autoridades o intereses privados. También puede tratarse de editores con un historial distinguido de defensa de los valores de la libertad de publicación y la libertad de expresión. A efectos del Prix Voltaire de la UIE, la definición de 'editor' es un individuo, colectivo u organización que proporciona a otros los medios para compartir sus ideas en forma escrita, incluso a través de plataformas digitales.

El Prix Voltaire, que viene con un premio de 10,000 francos suizos, es posible gracias a las generosas contribuciones de los patrocinadores, los cuales son editoriales y organizaciones que comparten los valores que reconoce el Prix Voltaire.

Los actuales patrocinadores del Prix Voltaire de la UIE son, en orden alfabético:
Albert Bonniers Förlag (Suecia)
Aschehoug (Noruega)
Cappelen Damm (Noruega)
Det norske Samlaget (Noruega)
Gyldendal (Noruega)
Natur & Kultur (Suecia)
Norstedts (Suecia)